Lion.A.Sam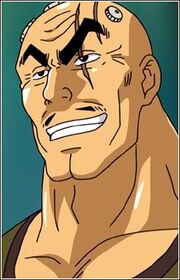 Age: 45 (Pre-Time skip)
(Post-Time skip)
Gender: ♂' Male (OTOKODA) '
Species: Human
Blood type: F--
Birthdate: Oct, 25
Height: 9 ft and 2 inch
Weight: 2.5 Ton
Island of Origin: Sugarhill Village, West Blue
Occupation: Marine Vice-Admiral and Vice Commander of Marine G5 HQ in New World
Epithet: The War Hero
Crew: Wardog Fleet
Position: Vice-Admiral
Family:
Promotion History
1st Promotion:
2nd Promotion:
3rd Promotion:
4rd Promotion:
5rd Promotion:
Dream:
Page created by: [Monkey.D.Me]
Introduction
Lion A.Sam is the Marine Vice-Admiral and 2nd mate of Wardog Fleet. He is Cyborg and works as Weapon devealoper.
Appearance
Sam is well-build tall man who bold look and muscular body.
Personality
He is most time a goof arounf but enjoys battle where he likes to test the newest weapons he made.
Abilities and Powers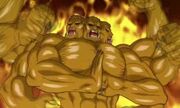 Devil Fruit
Vishnu Vishnu no Mi
This DF allows the use to transform in to a beast whic has 3 heads and 6 arms. The beast reaches hieght of 8 meters and multplies its user's power by 100 times and can be increased as the user trains more.
Hand to Hand Combat
Physical Strength Agility Endurance Weapons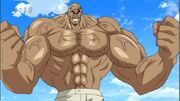 Kenbunshoku Haki: Color of Observation
Uses it.
Busōshoku Haki: Color of Armaments
Uses it.
Relationships
Crew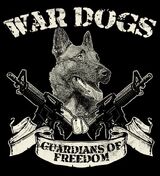 Family
Allies/ Friends
Enemies
Other
History